Breakfast in a farmstead – Modica
In the typical local farmstead, time seems to stop. The ancient handwork still marks the uniqueness of flavours and authenticity of food. A fantastic journey of discovery through the tastes of the country tradition.
Itinerary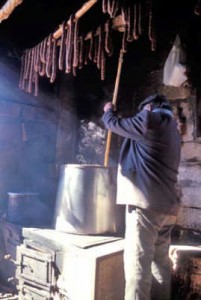 Arrival at the farmstead. We will visit the farmstead, the whole building complex and the surrounding countryside, among orange, olive and carob trees. We will see how ricotta (cream cheese) is made, the different stages in the cheese making process and its maturing. Back to the farmhouse, a huge breakfast will be served: fresh ricotta, homemade bread and pizza baked in the traditional wood oven, caciocavallo cheese, olives, capuliato (chopped sun dried tomatoes) and grilled sausages. After breakfast, we will drive to Modica and have a walk in the city centre. A guided tour of the town may also be included: St. George's basilica, church of St. Mary of Bethlehem and St. Peter's church. At the end of the tour: chocolate tasting. It may be accompanied by the vision of a video about the history and processing of the famous Modica chocolate.
Service
The tour takes up to 4 hours. We will escort you all through the tour. Guided tour if requested. Breakfast and tasting. Language: Italian and English.